Montana State Library
The Montana State Library is entering a new phase of delivering COVID-19 information to Montanans with its COVID-19 Mapping Websites: the GIS Cases and Vaccination Dashboard and Data Hub.  After over two years of updating the COVID-19 GIS Data Hub each weekday, the State Library will begin weekly reporting every Friday on May 13, 2022. This follows the announcement by the Montana Department of Public Health & Human Services (DPHHS) to scale back COVID-19 reporting to a weekly basis.
To support the State Emergency Coordination Center during the beginning stages of the pandemic, the State Library's mapping professionals quickly built a website to organize and display the COVID-19 data that is collected and shared by DPHHS. Using their staff's expertise, the State Library developed and continue to maintain Montana's COVID-19 Maps & Dashboard: MONTANA RESPONSE: COVID-19 – Coronavirus – Global, National, and State Information Resources.  For many Montana's it has been a daily habit to visit this site for up-to-date information.
In addition to the change of frequency of data reported such as new cases, hospitalization, and vaccine doses, the website will now include information about local community levels of infection. This addition of new information to the website will further aid Montanans to make well-informed decisions about prevention at the community level. According to the CDC website, "COVID-19 Community Levels are a new tool to help communities decide what prevention steps to take based on the latest data. Levels can be low, medium, or high and are determined by looking at hospital beds being used, hospital admissions, and the total number of new COVID-19 cases in an area."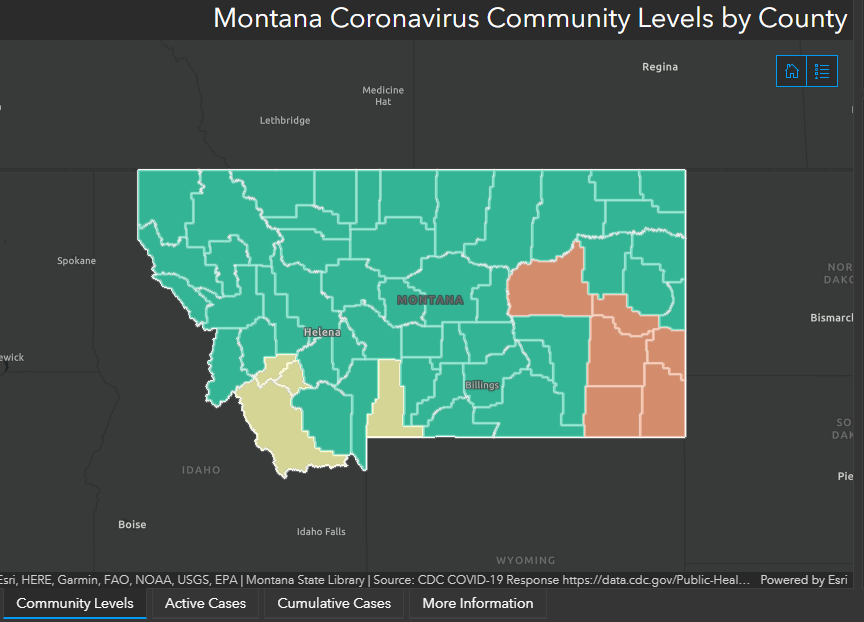 "We worked in conjunction with the Department of Public Health & Human Services to make COVID-19 case, hospitalization, and vaccination information available to our citizens," Erin Fashoway, Montana's State GIS Coordinator. "A great deal of work goes into creating a map-based tools and websites, such as the COVID-19 dashboard and maps. We have built a process that ensures data integrity of the quickly changing information.  We are proud of our efforts to keep Montanans informed during this unprecedented period of concern."
In addition to the website, the State Library's staff have also made the raw data available to medical researchers, state and local governments, and private healthcare providers. With access to this data, these groups can conduct additional analysis. The Montana State Library is committed to being a reliable resource for information for all Montanans, and the Covid-19 GIS Data Hub is a dynamic tool that accomplishes this goal.
To learn more about the upcoming changes, please visit the DPHHS Press Release: 
https://dphhs.mt.gov/News/2022/May/covid19datareporting
Montana State Library
The Montana State Library (MSL) helps all organizations, communities, and Montanans thrive through excellent library resources and services.
Montana citizens and GIS practitioners in Montana have a decades-long investment in a strong foundation of GIS knowledge, partnerships, spatial data infrastructure, and data sharing tools. This investment in GIS empowers local, state, and federal government staff as well as business, industry, education, and research personnel seeking to understand Montana's economy, demography, landscape, and much more.
Montana State Library staff support State GIS Coordination in Montana to ensure that this investment not only endures but is further expanded, strengthened, and utilized.