Here's your daily update with everything you need to know on the coronavirus situation in B.C.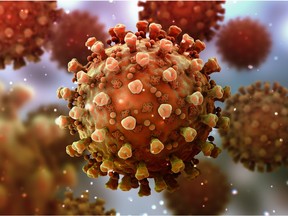 Article content
Here's your daily update with everything you need to know on the coronavirus situation in B.C. for March 28, 2022.
Article content
We'll provide summaries of what's going on in B.C. right here so you can get the latest news at a glance. This page will be updated regularly throughout the day, with developments added as they happen.
Check back here for more updates throughout the day. You can also get the latest COVID-19 news delivered to your inbox weeknights at 7 p.m. by subscribing to our newsletter here.
---
B.C.'S COVID-19 CASE NUMBERS
Here are the latest figures given on March 28:
• Total number of confirmed cases: 355,648
• New cases: 556 (207/197/152)
• Total deaths: 2,983 (six in the past three days)
• Hospitalized cases: 288
• Intensive care: 48
• Total vaccinations: 4,527,693 received first dose (90.8% of eligible pop. 5+); 4,350,266 second doses (87.3%); 2,661,745 third doses (57.4% of those 12+)
• Long-term care and assisted-living homes, and acute care facilities currently affected: Six
Article content
"Some of us are more vulnerable than others to the virus, and public health policy must consider these disproportionate impacts.
"Marginalized groups include immunocompromised people, older people, Indigenous and racialized peoples, people with disabilities, and low income communities."
Govender said the mask mandate – that was lifted on March 11 – should be re-instated.
Presently, masks are only required in health-care settings, airports and courts.
There are 288 people in hospital in B.C. either because of, or with, COVID-19 – of which 48 are in intensive care.
This is 18 more people than where in hospital last Friday.
There were six COVID-19 deaths reported over the past three days, bringing that total to 2,989.
Article content
There are six active outbreaks in health-care facilities.
COVID-19 and flu make for a dangerous combo
Having COVID-19 and influenza at the same time puts hospitalized adults at much greater risk of critical illness and death compared to having COVID-19 without the flu, researchers reported on Friday in The Lancet.
Patients with SARS-CoV-2/influenza co-infections were more than four times as likely to require machines to help them breath and 2.4 times as likely to die compared to patients who only had COVID-19, according to a study of nearly 7,000 hospitalized patients with COVID-19, including 227 who also had the flu.
Dr. Kenneth Baillie of the University of Edinburgh, who led the study, said the combination of the two viruses is particularly dangerous.
Article content
"We expect that COVID-19 will circulate with flu, increasing the chance of co-infections. That is why we should change our testing strategy for COVID-19 patients in hospital and test for flu much more widely," Baillie said in a statement.
"The vaccines that protect against COVID-19 and flu are different," added Dr. Peter Openshaw of Imperial College London, "and people need both."
— Reuters
A nasal spray developed by a team of researchers, including some from the University of B.C., has been found effective at treating and preventing COVID-19 in mice, offering hope for future therapeutic treatments for humans.
The spray, referred to as N-0385, is believed to be the first treatment of its kind. Research, published this week in Nature, shows that it is effective against the Alpha, Beta, Gamma and Delta strains of COVID-19.
Article content
Further unpublished results from the same study also show promise that the spray could also be effective against the Omicron variant in human lung cells.
The team included reachers from UBC, the Université de Sherbrooke, and Cornell University.
"Our unpublished results represent encouraging findings with the current rapid propagation of Omicron BA.2 around the world," said senior author Dr. François Jean from UBC's department in microbiology and immunology.
"Unfortunately, with another wave of an Omicron variant hitting the U.K., Europe, and China and our knowledge of how these waves occur, this may be what we see in Canada in the near future."
Jean believes that once approved, the nasal spray could work in conjunction with other readily available and approved drugs to prevent the virus from replicating and to provide a stronger defence against variants.
Article content
The spray contains a specially designed compound that blocks a specific human enzyme found in nasal cells and used by the virus to infect a host cell, without having to enter the cell itself.
In the study, genetically engineered mice were infected with the COVID-19 virus and given a daily dose of the nasal spray for four days. All 10 of the treated mice survived infection, compared to just 20 per cent of untreated mice.
– Staff Reporter
It's too early to say Quebec is in a sixth wave, but COVID-19 cases are surging, especially among health-care workers, interim health director Luc Boileau said Sunday.
At a news conference in Montreal, he reported the number of health-care workers off sick with the virus has jumped by 60 per cent in less than a week to 8,600, "a number that worries us."
Article content
During the Omicron wave in December and January, between 16,000 and 20,000 health workers were absent.
New hospital admissions rose by 20 to 107 on Saturday, for a total of 1,088, Boileau said, after increasing another 20 on Friday.
"If the trend continues, hospitalizations will continue to go up," he said.
Two-thirds of new cases in Quebec are the BA.2 Omicron sub-variant, Boileau said, up from 57 per cent last week.
Read the full story here.
— Montreal Gazette
U.K. study to test Pfizer's COVID pill in hospitalized patients
Pfizer's oral COVID-19 therapy will be evaluated as a potential treatment for patients hospitalized with the illness in a major British trial, scientists said on Monday, as cases rise in some parts of the world.
Article content
The world's largest randomized study of potential medicines for COVID-19, dubbed the RECOVERY trial, will assess Paxlovid across hospitals in Britain, which has already approved the drug for early-stage treatment.
"Paxlovid is a promising oral antiviral drug but we don't know if it can improve survival of patients with severe COVID-19," said Peter Horby, a professor at the University of Oxford and joint chief investigator of the RECOVERY trial.
The scientists said they aim to mainly find whether Pfizer's Paxlovid reduces the risk of death among patients admitted to hospitals with COVID-19.
Earlier this year, the trial began testing a rival COVID-19 pill from Merck for hospitalized patients as well.
RECOVERY, led by the University of Oxford, will also probe whether Paxlovid shortens the length of hospital stay or reduces the need for a mechanical ventilator, they added.
Article content
— Reuters
Six more passengers on Sunwing 'party flight' slapped with heavy fines
Six more passengers aboard a now-infamous Sunwing flight to Mexico last year that made international headlines when videos emerged of their partying and scorning COVID-19 health regulations aboard the aircraft have been slapped wth heavy fines.
Federal Transport Minister Omar Alghabra announced on his Twitter account on Monday that the six had been sent fines that could see them pay as much as $5,000 for their conduct aboard the Dec. 30 charter flight from Montreal to Cancun.
He said five of the citations involved violation of vaccination rules while the sixth involved not observing a mandatory face mask requirement.
Transport Canada has thus far issued 12 citations to passengers in connection with the flight and says more are expected.
Article content
Videos taken aboard the flight and shared on social media showed maskless passengers in close contact singing and dancing in the aisle of the aircraft and on its seats while bottles of alcohol were passed around and some passengers vaped and took selfies.
— Montreal Gazette
HIV drugs may curb COVID-19 risk
Certain drugs used to treat HIV may have a role in preventing SARS-CoV-2 infections, according to preliminary data that may help explain why people living with the condition have not appeared to be at higher risk for serious COVID-19 despite being generally more vulnerable to infections.
Doctors in France studied more than 500 people with HIV, a third of whom were receiving long-term treatment with protease inhibitor drugs as part of their antiviral therapy. Over the course of a year, SARS-CoV-2 infections were diagnosed in 12 per cent of participants taking protease inhibitors and 22 per cent of those not receiving these drugs. Four patients in the non-protease-inhibitor group were admitted to hospital with COVID-19. After accounting for other risk factors, individuals taking protease inhibitors were 70 per cent less likely to become infected with SARS-CoV-2 than patients who were not taking these drugs, according to data scheduled for presentation at the European Congress of Clinical Microbiology & Infectious Diseases.
Article content
Some new treatments for COVID-19 use protease inhibitors, which block the virus from multiplying.
"Protease inhibitor drugs have long history of use, a good safety profile, and are generally well tolerated," Dr. Steve Nguala from the Intercommunal Hospital Center of Villeneuve-Saint-Georges, said in a statement.
They have the potential "to prevent the spread of infections and mutation of future variants," he said, adding that larger studies are needed to confirm the findings.
— Reuters
France sees highest daily jump in COVID-19 hospitalizations since Feb 1
French health authorities said on Monday the number of patients hospitalized for COVID-19 over the past 24 hours jumped by 467 to 21,073, the highest daily rise since Feb 1.
Article content
On a week-on-week basis, the hospitalisations figure is up 1.8% and it has been now increasing for the fifth day running, after a steady decline since early February.
COVID-19 infections have been rising again since early March, with the seven-day moving average of new cases at a six-week high of 127,488. Generally, such a trend inversion translates into hospital figures with a two-week delay.
Most of the country's COVID-19 restrictions were lifted three weeks ago.
— Reuters
Five things to watch for this week in B.C.
It's been almost six weeks since provincial health officer Dr. Bonnie Henry began lifting restrictions aimed at curtailing the spread of COVID-19.
It began on Feb. 15 with the removal of some restrictions on private and public gatherings and then on March 11 face mask rules in most indoor public settings were lifted.
Article content
These decisions came as the pandemic entered a third year and as the number of people in hospital with the disease continued to fall.
Here are five things to watch for this week in B.C. on the COVID-19 front.
Israeli study: 2nd vaccine booster significantly lowers COVID death rate
Senior citizens who received a second booster of the Pfizer–BioNTech COVID-19 vaccination had a 78% lower mortality rate from the disease than those who got one only, a study from Israel showed on Sunday.
The country's largest healthcare provider, Clalit Health Services, said the 40-day study included more than half a million people aged 60 to 100.
Some 58% of participants had received a second booster – or two shots in addition to the basic two-shot regimen. The remainder had received only one booster. Researchers recorded 92 deaths among the first group and 232 deaths among the second, smaller group.
Article content
"The main conclusion is that the second booster is lifesaving," said Ronen Arbel, Health Outcomes Researcher at Clalit and Sapir College.
The report was issued as a preprint and has not been peer-reviewed. The research excluded people who received rival Moderna's vaccine and those who had taken oral anti-COVID therapy.
— Reuters
218 new cases reported Friday, two more deaths
Interior Health reported the highest number of new cases of COVID-19 across the province Friday, with 80 new cases.
Provincewide, there were 218 new cases of the virus reported on Friday, including 47 in Island Health, 45 in Fraser Health, 28 in Vancouver Coastal Health and 18 in Northern Health.
There were two more deaths, one in Vancouver Coastal Health and one in Northern Health, bringing the total number of COVID-19-related deaths up to 2,983.