The worsening spread of Covid-19 in India has prompted opposition criticism of U.K. Prime Minister Boris Johnson's coming visit there. German Chancellor Angela Merkel and President Frank-Walter Steinmeier will attend memorials in Berlin to mourn the death of nearly 80,000 victims. In France, new quarantine measures for travelers were announced.
Pfizer Inc. will increase supplies of its Covid-19 vaccine for Japan by the end of September, the country's vaccine czar said. South Africa's health regulator asked the government to lift the pause on administering Johnson & Johnson vaccines provided certain conditions are met.
Covid-19 deaths worldwide exceeded 3 million, according to Johns Hopkins University data. The burden is being increasingly borne by developing nations, including Brazil, Mexico and Peru. The U.S. recorded the highest number of new infections in a week as cases continue to surge, particularly in the Midwest.
Subscribe to a daily update on the virus from Bloomberg's Prognosis team here. Click CVID on the terminal for global data on cases and deaths.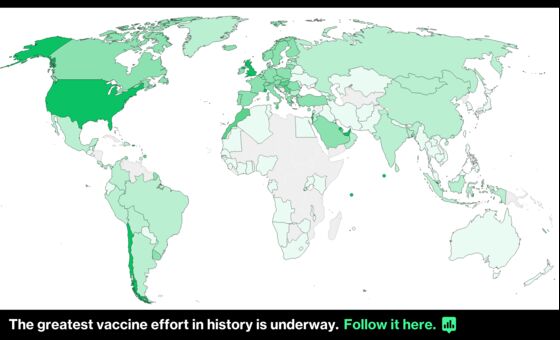 India's Variant Spreads to South Korea (5:26 p.m. HK)
South Korean authorities have identified nine cases of the so-called double-mutant variant in people arriving from India. The government said seven cases were found this month, while two cases were confirmed in March.
Pakistan Cases Surge in Worsening Wave (5:16 p.m. HK)
Pakistan reported 6,127 coronavirus cases, the highest in 10 months, in the latest government data. The South Asian nation is going through its third wave with government officials stating it may be the worst.
Johnson's India Trip Called 'Covid Secure' (5:13 p.m. HK)
U.K. Environment Secretary George Eustice told Sky News that the prime minister's visit will proceed in a "Covid secure" manner. Asked if India was being held off the so-called red list of banned countries to let the trip go ahead, Eustice said government scientists keep the matter under constant review. A Labour shadow minister said the trip should be scrapped, given the worsening outbreak in the sub-continent, the Independent reported.
Cases Decline in Poland, Malaysia (4:33 p.m HK)
Poland reported 12,153 new cases, a decline from 21,703 last Sunday. The death toll rose by 207, compared with 245 a week ago.
Malaysia, meanwhile, added 2,195 cases on Sunday, bringing the total to 375,054, according to health director general Noor Hisham Abdullah on Twitter. Sunday's cases are lower than Saturday's 2,331 cases.
Spread During Quarantine in Sydney (4:15 p.m. HK)
Three new cases among a family of returned travelers were discovered to have been transmitted in a Sydney hotel. The infections, initially recorded as contracted overseas, are now believed to have been picked up from a family of four in an adjoining room in a city quarantine hotel, New South Wales Health said in a statement Sunday. Investigations into how the transmission occurred are under way, it said.
France Imposes Quarantine on Some Travelers (3:48 p.m. HK)
France announced late Saturday a strict 10-day quarantine for arrivals from Argentina, Chile, South Africa and Brazil. Previously travelers from outside the European Union were only requested to commit to isolate for seven days with no proper checks. The government will discuss the measures with its European partners this week, Prime Minister Jean Castex said in an emailed statement.
U.K.'s New Travel Rules Coming Next Month (3:45 p.m. HK)
The U.S., Israel and Australia — along with Ireland, Malta, Gibraltar, Iceland and New Zealand — will be the only countries the U.K. will list as safe for travel from May 17, according to research cited in the Telegraph newspaper by Robert Boyle, former strategy chief at British Airways.
After the so-called green list, the rest of Europe will either be on the amber list, requiring home isolation for 10 days, or the red list, where arrivals have to hotel quarantine, the Telegraph reported. Several countries including France, Belgium and the Netherlands should be on the red list according to the government's criteria but likely won't be due to political and economic reasons, it said.
Germany's New Cases Are Stable (3:37 p.m. HK)
German new infections rose by 20,197 to a total of 3,154,305 and fatalities increased by 77 to 79.971 over the past 24 hours.
Numbers are largely stable compared with the week before when cases rose by 18,728 and fatalities increased by 107.
Australia to Speed Up Vaccinations (2:16 p.m. HK)
Australian federal and state leaders will discuss ways to speed up the coronavirus vaccination rollout and shift to alternatives to the AstraZeneca Inc. inoculation in their upcoming meeting, Prime Minister Scott Morrison said Sunday.
Current vaccine supplies are sufficient to cover initial stages of the program currently under way, which target frontline workers and the elderly, Morrison said.
The national cabinet meeting on Monday will focus on a strategy for the next phase, and will discuss blood-clotting cases associated with the AstraZeneca shot, which has led to Australia's immunization advisory group recommending the government switch to Pfizer Inc. for people under 50.
Indonesia Warns of Rising Covid Cases (2:14 p.m. HK)
Indonesia warned of a potential increase in coronavirus infections as families gather during annual Eid holidays and planned to speed up inoculation on its older population.
Six million more bulk vaccines developed by Sinovac Biotech Ltd. arrived in Jakarta on Sunday, which will be processed by state-owned PT Bio Farma to make about 20 million doses ready to be administered over the next month, Health Minister Budi Gunadi Sadikin said in a briefing broadcast on YouTube.
Indonesia is the worst infected country in Southeast Asia with about 1.6 million confirmed cases. It's counting on the shots to be able to inoculate more than 180 million people within a year. Almost 11 million people have received their first dose of Covid-19 vaccines, according to latest government data.
Thailand Bans Some Alcohol, Closes Pubs (12:46 p.m. HK)
Thailand began enforcing a ban on sale of alcohol at restaurants from Sunday and closed bars, pubs, karaoke and massage parlor nationwide as a flareup in Covid-19 infections saw the Southeast Asian nation log a record number of new cases in the past 24 hours.
New cases jumped to 1,767, taking the nation's total Covid-19 infections to 42,252, official data released on Sunday showed. Authorities also reported two more deaths, taking the cumulative fatalities to 101, while 128 patients were reported to be in serious condition.
Hong Kong Mulls Tighter Quarantine (12:44 p.m. HK)
Hong Kong's government is considering whether to further tighten hotel quarantine measures and flight restrictions after a man who returned from Dubai and completed 21 days of quarantine tested positive for Covid-19, Health Secretary Sophia Chan said on Sunday according to broadcaster RTHK.
Officials are assessing the situation and will discuss with experts before deciding whether to tighten restrictions, Chan said.
The 29-year-old patient returned from Dubai last month, and health authorities said he tested negative for the coronavirus when he underwent the mandatory 21-day quarantine at a hotel in Tsim Sha Tsui.
He later stayed at a flat in city's Jordan district and than 80 residents of the building have now been quarantine, according to RTHK. Authorities say a highly infectious strain was uncovered for the first time in the city, the broadcaster said.
India New Cases Hit Record as Army Called Up (12:39 p.m. HK)
India's coronavirus epidemic worsened overnight, with the South Asian nation adding a record 261,500 new cases and 1,501 deaths.
The army has been called in to ramp up hospital capacity, with a 250-bed hospital established in New Delhi run by the military's Medical Corps, as medical services across the country report critical shortages of beds, oxygen and essential medicine.
Prime Minister Narendra Modi, who has been campaigning at election rallies in West Bengal over the weekend, is due to chair a meeting of top officials in the holy city of Varanasi — home to his parliamentary constituency — on Sunday.
Japan, Pfizer Agree on More Vaccine Supply (8:13 a.m. HK)
Pfizer will increase supplies of the Covid-19 vaccine for Japan by the end of September, Japan's vaccine czar Taro Kono said in a Fuji TV program on Sunday.
Prime Minister Yoshihide Suga and Pfizer Chief Executive Officer Albert Bourla discussed increasing the supply on a recent phone call, the Ministry of Foreign Affairs said in a statement.
Pfizer's vaccine is currently the only one approved for use in Japan, and the inoculation rollout which started in February has so far been slow. Fewer than 2 million doses have been administered to its population of about 126 million.
Wembley Welcomes Fans in Test (7:32 a.m. HK)
London's Wembley Stadium welcomes back soccer fans for the first time in over a year on Sunday, part of trials the U.K. government hopes will enable the restart of mass events that were banned during the pandemic.
Four thousand spectators will be allowed to watch the FA Cup semifinal between Leicester City and Southampton — a fraction of the stadium's 90,000 capacity — to allow scientists to begin examining the risk of virus transmission. It's one of a series of pilot events over the coming weeks to test how best to reopen larger venues safely.
Brazil's Weekly Deaths Slow (7:28 a.m. HK)
New deaths in Brazil fell for the first week since mid-February, with almost 800 fewer fatalities compared with the week before, according to Health Ministry data.
Local governments are easing restrictions on commerce and movement as intensive care admissions have slowed in the two largest cities. On Friday, the vice governor of Sao Paulo, one the hardest-hit states, announced non-essential businesses and services would be allowed resume in the coming days.
Still, another 2,929 fatalities were reported on Saturday, ending a week with 20,344 deaths, almost three times higher than the peak of last summer's surge. A total of 371,678 people have died in Brazil since the start of the pandemic, the highest toll after the U.S.
In a further sign that the fight with Covid is far from over, the administration of President Jair Bolsonaro announced Saturday it would allocate an additional $268 million to help fight the pandemic, with the majority of the funds dedicated to expanding intensive care centers across the country.
Philippine Billionaire Hospitalized (6:57 a.m. HK)
Philippine billionaire Lucio Tan has been hospitalized after testing positive for the coronavirus, his daughter Vivienne Tan said.
The 86-year-old owner of Philippine Airlines Inc. and Philippine National Bank is "in stable condition, responding well and recovering," his daughter said in a statement.
South Africa Moves to Restart J&J (4:41 p.m. NY)
South Africa's health regulator asked the government to lift the pause on administering Johnson & Johnson vaccines provided certain conditions are met.
"These conditions include, but are not limited to, strengthened screening and monitoring of participants who are at high risk of a blood clotting disorder," the South African Health Products Regulatory Authority said in a statement.
South Africa halted J&J vaccines after health agencies on Tuesday called for their suspension in the U.S. The J&J shot is a key element to South Africa's vaccination plan and has already been used to inoculate health workers, with no reported adverse effects.
Ontario Police Balk at Anti-Covid Rules (3:38 p.m. NY)
Canadian police forces say they will not randomly stop motorists to enforce the province of Ontario's stay-at-home campaign. On Friday, Ontario Premier Doug Ford said he had no choice but to impose tough restrictions to curb a sharp rise in infections, including extraordinary powers to stop vehicles and individuals to ask why they aren't at home.
But police in Toronto, Waterloo and other cities quickly issued statements saying they won't do random checks.
Ottawa police said they would be involved with setting up checkpoints on bridges between Ontario and neighboring Quebec to enforce new constraints on travelers from other provinces. People will still be allowed to cross the provincial boundary for work.
California Hospitalizations Decline (2:08 p.m. NY)
The number of people hospitalized in California due to confirmed and suspected coronavirus cases dropped by 41 yesterday to 2,145, according to the health department's website. There were 453 ICU patients, 23 fewer than the previous day. The state's seven-day positive test rate was 1.6%, a down from 1.7% a week ago.
Still, deaths climbed by 103 to 59,690, and 2,763 new cases were reported yesterday. California, with a population of around 40 million people, has administered more than 25.1 million Covid vaccines to date. In Los Angeles, the test positivity rate extended the decline to a record low of 0.9%.